In 2006, I was running management programs at NYU's School of Continuing and Professional Studies (now NYU SPS). A new program we were rolling out was "Emergency Management and Disaster Recovery." I wanted to learn more on the subject, and was invited to FEMA's Emergency Management Institute in Maryland for a conference of educators.
I can't say I remember everything about that conference, but one speaker stood out. I distinctly remember Ted Buffington's talk about what happens to people in an emergency. Most people's response during a crisis is to either Focus, Fold or Freeze™, according to Ted (who owns that trademark). The framework is simple. When something serious happens (fire, terror incident, someone is choking or has a heart attack) are you going to be the person that focuses on what to do and how to help? Will you panic and fall apart – fold? Or will you be a "deer in headlights" waiting for the inevitable?
Emergency workers are trained to focus. You don't want your police, firefighter or EMT unsure of what to do when disaster strikes. We trust these professionals to have great training, and we respect their ability to help us when we need it. I met lots of incredible people who had saved countless lives at the FEMA training conference.
I don't recall doing any special training with Ted, but that framework of the mind always stuck with me. What would I do in a crisis? Would I run or freeze? Or could I focus and figure out the situation, and do the right thing? Last month, I found out the answer.
I became a "local town hero" by helping a man stuck on active train tracks out of his car. I witnessed a car swerving off the platform onto the ground-level train tracks at Suffern station on March 16th. This man should never have been driving on the platform but he was confused and went right past the ticket vending machines onto the tracks. I had no idea when the next train was coming. The person inside was unable to open the driver-side door since his car was too close to the concrete platform. While calling 911 and then NJ Transit, and asking people on the platform to watch out for me, I ran out onto the tracks and helped him out the passenger side. The whole time I was conscious of the possibility of a train coming. Got my pulse rate up for sure!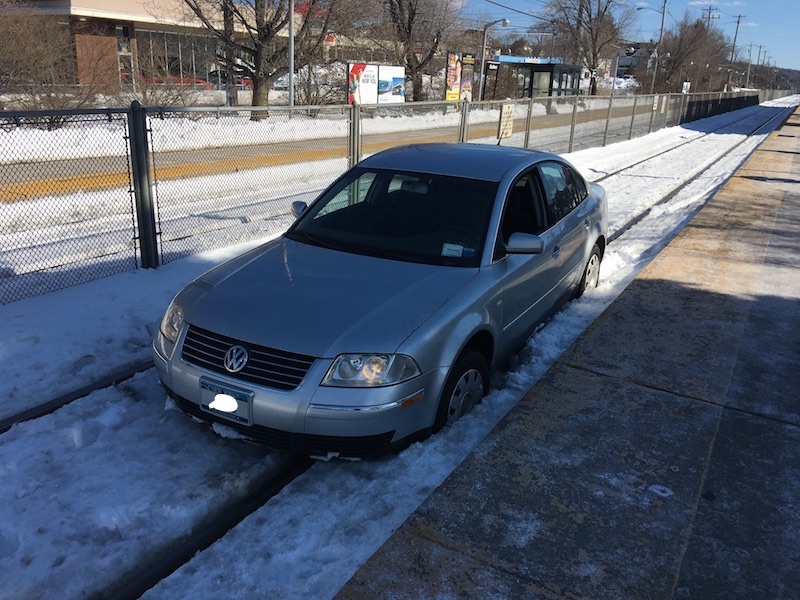 He was an older gent, and I helped him out of the car, across the snow on the tracks, and onto the platform, and right to a Suffern Police Department officer. (You can see my footprints in the snow between the tracks in the picture above.)
Thankfully, the next scheduled train was 25 minutes later – but there was every possibility that equipment was being shifted or a freight would go by. Kudos to Suffern Police for being there in about 30 seconds (no joke) and to NJ Transit (1-888-TIPS NJT – they say it on every train ride, I actually had to call it!) for stopping the trains. You can watch the TV coverage of this here via WABC 7 NYC.
People keep coming up to me to ask about this. I can't explain it other than to say, I was there, and I wasn't going to watch something terrible happen to this old man. Sure, I called 911, and I had people looking out for me. But when it came down to it, I focused, made a plan and helped a person in danger. Now I know. The police, fire services, and EMTs are heroes who face danger constantly. I was glad I could pinch-hit till they arrived.
When trouble happens, will you focus, or fold or freeze? Ted has some good, but older, resources on the To Achieve site.