At SXSW I was shown and invited to support* the US Olympic Genome Project, created by Samsung. I don't take on support of brands randomly – I think this is a fun effort. (And before you worry, no one is trying to attempt to graft genes into me to make me a better athlete – though, if you have an idea – call me.)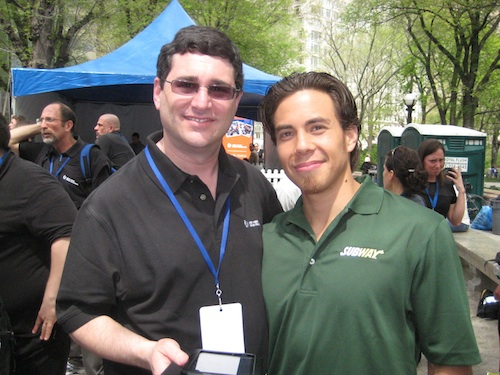 Samsung wants to get people thinking about the upcoming Olympics, and more than just the highest profile athletes. I've met many Olympic athletes due to my work via the Harbrooke Group for the New York Road Runners, some high profile (like Apolo Ono) and some who are not household names.
Without exception, these people are exceptional. They work hard and are committed to a goal with singular purpose. They've generally been polite, intelligent and unassuming. This follows with a story that one of the Samsung folks told me – that they had 2 ex-Olympians working in their office in NJ, and no one even knew they had been in Equestrian or Pentathalon events.
It made the team think about all the Olympians and Para-Olympians living among us who we don't know, and don't understand how we might have connections to them. At SXSW I saw a sneak preview of the US Olympic Genome project, which will enable you you to find, via your Facebook connections, listed place of residence and birth, and your interests, how you're connected to various athletes. This is pretty creative marketing and it taps into an opportunity for all of us to learn more about the athletes and para-athletes in our midst, whether in well-known sports or lesser-known ones.
While this project is a closed beta, I was able to see some of the Olympic quizzes, games and data visualizations that will let everyone see their connections to athletes and sports they weren't aware of. Taking the quizzes and doing games earns you points, and you can use those points to donate money to Team USA via the non-profit USOC, which pays for athletes to train and go to the Olympics.
Glad I can be a part of the soon-to-be-everywhere Olympic spirit in 2012, and kudos to the creative folks who thought this one up.
*Note, this post was created in connection with my appointment as an Ambassador for the Samsung US Olympic Genome Project – this is a compensated position.