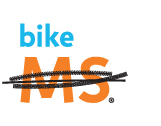 This year, once again, I'm riding for Team Jamie and BikeMS NYC.
3 years ago, when I said I wanted to ride 30 Miles for an MS Bikeathon, my step-but-real sister Jamie  said "I can barely walk 300 feet – why do they do these events that people with MS could never do?"
I said "Maybe it's because we hope someday you'll be able to."
3 years later, life is harder for Jamie, but I'm able to ride farther, and hopefully raise more money. This year it's 50 miles for Team Jamie! I've got some Awesome team mates and we're going to blow the pack away, and blow out the fundraising goals. I'm looking to beat $1000!
You can support me by going to http://greenste.in/bikems-hg and no amount is too small. Thanks.